Arizona for Barack Obama

Arizonans for Obama is a grassroots organization built to help promote the Obama '08 campaign, but not affiliated with the campaign itself. The group is not a political action committee, and does not participate in direct fundraising. Its purpose is to help organize individuals who want to directly participate in promoting the campaign by volunteering their time and talents.

The official Arizona for Obama Center on Barack Obama's Official Campaign web site has a lot more associated activity than many other state-focused groups, including sub-groups such as Arizona Artists for Obama, Arizona Gays and Lesbians, Arizona Women for Obama, and Arizona Young Democrats for Obama. There's even a local group, Prescott Arizona for Obama. Right now, there are canvassing and letter writing campaigns going on. Check it out and get involved.

Also visit our our Arizona Progressive Directory for organizations that, while not directly affiliated with Barack Obama's presidential campaign, are strongly progressive and provide a focus on the same issues that the Obama 2008 campaign is working on. Support these groups, and you'll end up providing substantial indirect support to the most progressive elements of the Obama campaign.
Arizona for Barack Obama Campaign Gear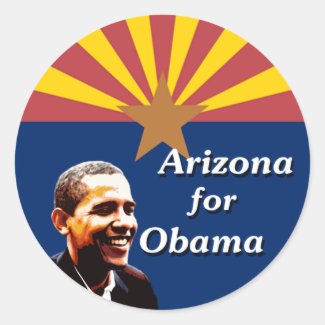 Round Arizona for Obama State Flag Sticker

Arizona for Obama bumper sticker


Arizona for Obama button (2.25")

---